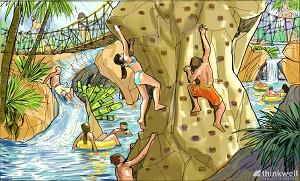 Are you looking for more thrills than the typical Las Vegas hotel pool can provide? Are there not enough wave pools and water slides at your favorite Vegas pool? The action you are looking for may be coming to Las Vegas in a few years.
A new 1.1 billion dollar project called Las Vegas Wet is under development. The developers have a 100 acre parcel of land on Las Vegas Boulevard, south of the airport. The plans include multiple themed "Lands", each of which will be filled with pools, hot tubs, slides, rock climbing, water falls, fountains and other fun features. One of them will be a 21-and-over only area featuring European sunbathing, swim up gaming tables, a "Social Spa" with group mud baths, hydrating rooms, and other body treatments and body painting. There will also be two 600 room hotels, an entertainment complex, a multiplex theater, a concert venue, stores and restaurants. Also included will be a indoor ski park. That's right, you will be able to ski and snowboard right in the middle of Las Vegas. What will they come up with next?
Pools at Las Vegas hotels have become more extravagant recently, but this one raises the bar quite a bit. They hope to open the resort late 2008 or early 2009. I will keep you posted as I hear more about this water park/resort.
3 Comments
RSS feed for comments on this post.
t m sinks

when the lazy river/ pool slides park next to the Saharah went away we thought awwwwwwwwwwwwwwwww but this makes us sun starved Oregonians excited to hear! Will there still be a discount for tourists?

Comment left on March 20, 2007 @ 10:43 pm

Carl and Candy

finaly! something that hits home w/the whole "family friendly/adult fun" theme that the rest of vegas has been shooting at blindfolded w/ cap guns.

Comment left on April 1, 2007 @ 11:51 pm

Carlos

As a local resident its exciting to hear about this type of resort coming to Vegas. Ever since they closed "WetNWild" awhile back, Vegas has been in dier need to of some form of a water amusment park for the kids, young and old. There is no end in sight for this great town! Welcome to all!

Comment left on July 29, 2007 @ 12:02 am
Comments closed
Sorry, the comment form is closed at this time.